Originally published at STARS UP HIGH. You can comment here or there.

It took me forever, but I've finally figured out how to post flickr galleries here on Word Press. It's been a hassle but I think I've finally got it all figured out. Sweet! : )
That being said, please view the gallery below. I spent 7 days in Trinidad & Tobago total, 2 of those days were spent to and from Tobago. It was an amazingly beautiful experience that I intend to write more about. Until then, enjoy these lovely photos!
Originally published at STARS UP HIGH. You can comment here or there.
My co-worker introduced me to my new favorite thing: Birchbox. Birchbox is a service that costs $10.00/mo. In exchange you receive a box each month full of samples. Now, these aren't just any samples. No, these are name brand/designer products. Also, there are lots of products you probably wouldn't get a chance to try otherwise.  You can also purchase full sized products from Birchbox if you like your sample. The prices are pretty steep but Birchbox gives you a way to get these pricey items a bit more reasonably!
Each month you can log into your Birchbox account and review the items you received. For each review you complete, you get 10 points. 100 points can be redeemed for $10 that can be used to purchase items on the website. Yes, obviously they're making bundles of money but I like it so far. I like the products, I like being able to try something new and it's exciting to get it in the mail each month!
To show you how cool Birchbox is, and also to share these cool new products I got to try, take a look at what I got!
This is how my box looked when I got it! I accidentally cut the box when I tried to open up all the shipping packaging. Oops!
I love the pink paper inside. It definitely appeals to my girly side. I don't even care!
This picture is terrible, but this product is Beauty Protector Protect & Detangle. I haven't gotten a change to try it yet but I did feel it in my hand. It feels like it's going to work nicely.
Tweezerman Filemate, I just love these handy little files. I may try to take another picture to give scale. They're tiny!
I don't normally dig up on the lip gloss, but FusionBeauty LipFusion™ Infatuation Lip Fattener is pretty amazing stuff. I have taken to wearing it over my red lip stain. It's a little sticky but it's not nearly as bad as other glosses I've used.
These two products come in the above little yellow envelope. I have tried the LAFACE Laboratories PROTÉGÉR Age Defying Primer and it's pretty amazing. A SUPER TINY BIT goes a REALLY LONG way, so I'm not disappointed by the sample size. I haven't used the Supergoop!® Daily Correct SPF 35 CC Cream yet because I'm still trying to figure out the order of creams. Do I do my regular moisturizer THEN SPF cream? I have no idea.
So a lot of this is still over my head as I'm late to the expensive beauty products game. To be honest, I'm too poor for this stuff, but the samples are great and it's nice to try!
The Hair.
FIRST - thank you everyone for being so nice about it. I feel silly being so angry about it but I'm a shallow person and hair is important you guys!
HAIR IS IMPORTANT!!
Okay. That's all. THANKS.
So I nearly went and got a box of brown dye and "fixed" it on my own but my co-worker convinced me to go to the local beauty school instead. It took
forever
but I'm really glad I did it. It was worth it, big time. They did a dark brown all over and my hair... it's infinitely better. Though there was little to really do to lighten it up, and I don't want hair this dark, I think... I think I like it! The best part is that you can see shades of lighter and darker brown, black, and red. So it looks cool!
(
Evidence Here
Collapse
)
Needless to say I'm much relieved. Thank goodness!
So, the hair. Yeah.
Current Music:

Imogen Heap - Rake it In
I mostly think it's just really neat that a company like Muzak will take songs from basically unknown artists and play them. The best part? THESE PEOPLE GET FANS BECAUSE OF IT! Both times I whipped out my iphone and used
Shazam
to see who the artist was. I don't normally buy music on my iphone because I'm kinda cheap that way and would rather buy a whole album or be retarded and simply download it but in both cases I immediately purchased the songs.
The song that triggered this post I actually just heard yesterday in Maurices at the Gateway Mall while waiting for my friend to get unstuck in traffic in Portland. I also saw the newest Shrek for $1.50 while waiting and it was really cute and totes worth the money, but that's neither here nor there. Anyway this song came on and I immediately perked my ears up. And shazammed it. And purchased it:
From there I played it over and over and over and over again. Oh hey, look. I'm listening to it even now. GO SIA GO! I will definitely have to listen to more of her music now because... yeah. : ) <3
So this new music via shazam was "Burn Burn" by Nico Vega:
This song just kept coming on over and over again while I was at work. I liked it from the beginning, particularly because it stood out against all the other songs that would often play. It's different, a little harder and catchy as hell. So I finally purchased it, listened to it over and over again and then got the entire album. The great thing is that I love EVERY SINGLE SONG from their album and this one isn't my favorite. This one is:
This is a little bit different from the album version I feel like and I've never seen the video. I am really digging it because it reminds me of how Aja is live. <3
or maybe
MY BLOOOOD MACHIIIIIIIIIIIIINE!!!!! MY BLOOD MACHIIIIIIIIIIIIINE!!!
Okay seriously, I think if I had to actually seriously pick one? Beast. GOD THIS SONG IS FUCKING AMAZINGLY EPIC LIVE LIKE I CAN'T STOP TYPING IN CAPS BECAUSE THINKING OF HEARING IT LIVE MAKES ME SO FREAKING HAPPY AND EXCITED.
Nico Vega isn't everyone's cup of tea but damn it you need to taste the tea before making a decision because these guys are so amazing and live? HOLY FUCKING SHIT LIVE! Seriously you guys? When did I see them? LAST MONTH??? AND I'M STILL FREAKING OUT ABOUT HOW AWESOME IT WAS.
Okay I'm done now. Good music is good, guys. : )
So lately, it seems, I've been discovering music purely by accident. These two songs I want to share are both songs I've heard via being in a store. One was at AT&T while I was working there via Muzak. The other was yesterday at Maurices, I'm going to assume also through Muzak. It would make sense anyway.
Current Location:

home for once

Current Mood:

chipper

Current Music:

Sia - Bring Night


Afterward I bought a poster for $2 and each of them signed it for me. They were so sweet, gave hugs and/or hand shakes and thanked me for coming as I gushed about how excited I was to see them. I didn't want to go up to them at first because I didn't want to be "that creepy fan" but I think it was fine. Just a brief moment and a signature. : )

THEN the "headliners" Sweethead came on. I had some high expectations for this. I am unfamiliar with the band in general but listened to a couple songs on their myspace. They seemed fine. Plus, their band was gathered together by the lead guitarist from Queens of the Stoneage (I think) so I was like "Hey this will be great!"

SO FREAKING WRONG.

Their lead singer was horrible. So horrible it forced me to leave early because she was too fucking annoying. Her vocals were fine but nothing compared to the unique and interesting voice of Aja Volkman. Additionally, she came on stage in the shortest ever black (cute) dress with super high heels. Her dress was so short she was constantly pulling it down. It was distracting! At one point she crouched down and had a hard time getting up because of her heels. A little embarrassing, I thought. She had this complete sex appeal thing going on that was disappointing.

There were several moments where she was letting go and singing and seemed to get into it when she was very attractive and interesting to watch and listen to but she'd snap out of it, shake her tits and ass and that moment was over. At one point she even laid down on the stage and I'm pretty sure she was doing a sexy back arch thing that I couldn't see well. The whole thing was so distracting that I was annoyed just to look at her.

It isn't fair to compare her to Aja's performance but really? Really? I can't help it! Aja was so high energy. She danced around, spun around, climbed on to the drum kit and sang, bang on the drums, smiled, yelled and was just amazing. She even rolled around on the floor a couple times. She wore super short shorts with cute fringy ruffles on the bum and a short black kimono dress thing with a tank top beneath. It was "sexy" I suppose but not inherently so. She didn't behave overly sexy yet her show was much sexier and attractive in its innocence, excitement and enjoyment.

I hate to say it but the way the lead singer of Sweethead moved, shook her head about and got on her knee/ground, I sort of felt like she was trying to copy Aja but sex it up and just failed. I could be completely wrong. I don't know.

It's gotta suck to be the headliner when your opener is a better band. Poor saps.

I need a "OMG I'M SO F'N HAPPY RIGHT NOW" icon. Yes, I do.

Editted for excited icon found. <3 you Flanders
Went with my old co-worker Rachel to see Nico Vega tonight at the Doug Fir Lounge in Portland. It was such an amazing concert - super high energy. The band was obviously close and they performed so well together. Aja Volkman had great vocals. I just wish that her mic was a bit higher. It was hard to hear her at times. THEY PLAYED ALL MY FAVORITE SONGS!!! Poor Rachel. I was completely enthralled with them. She probably thinks I'm nutty.
I'm blaming
shadowpiranha
entirely for this one. But seriously, if you like Community, you should totes jump on board at
community_land
and join Team Mid-Life Crisis because Jeff is HOT and Britta is hilarity. : )
As if I didn't have enough to do lately, I've joined a new land comm:
Current Location:

home

Current Mood:

accomplished

Current Music:

True Lies on the tele
Total Icon Count: 40
Teasers:



(
Rest Under Here
Collapse
)
monthlyfanmix
and the return of
The Office
inspired me. Each track is sort of an homage to each character. Thanks to this I have a Kelly and a Jim/Pam fanmix brewing. There are many vapid songs to match Kelly. hehe ; )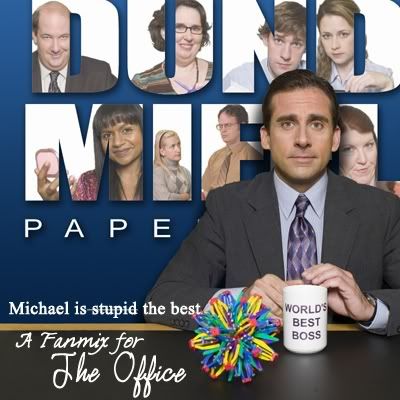 (
Mix Under the Cut
Collapse
)
I completed a Fanmix for
Current Location:

Home

Current Mood:

accomplished

Current Music:

Defying Gravity - Glee